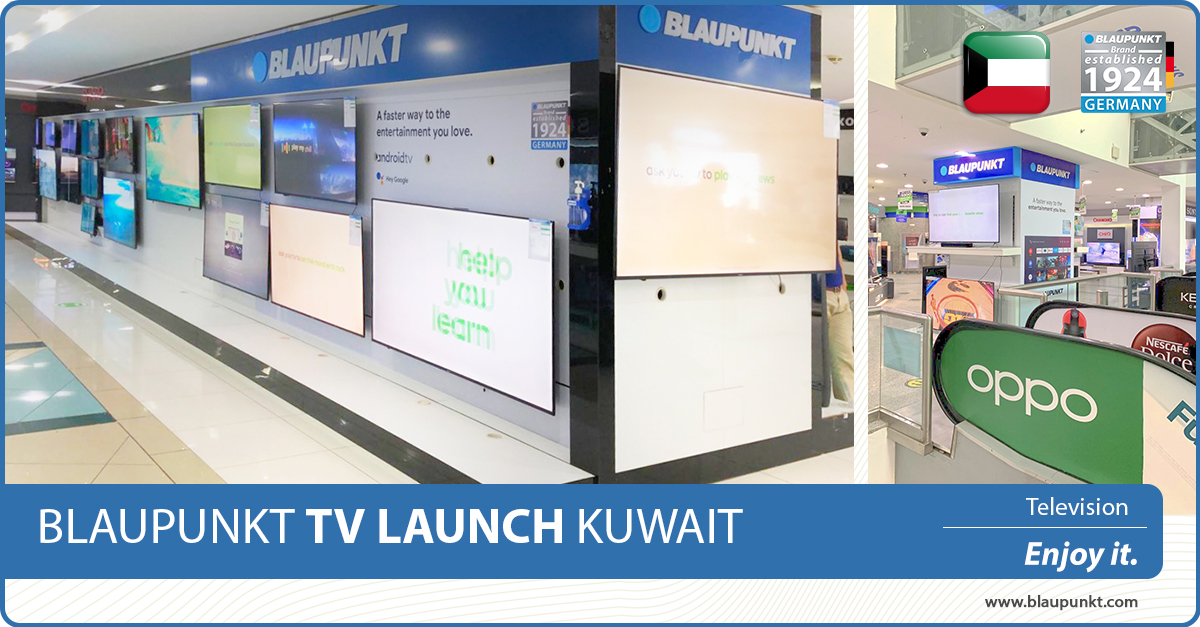 Australia based BLAUPUNKT TV and audio licensee brings BLAUPUNKT television to the leading megastore retailer in Kuwait.
Blaupunkt licensee Ayonz started selling televisions in Kuwait in January of 2021. Immediately there was a positive reaction from across the region, with profitable feedback beginning in the very first month of the launch. Now, customers can expect to find BLAUPUNKT Televisions at Eureka across Kuwait.
Established in 2001, Eureka has quickly become a trendsetter and is currently the leading megastore retailer in Kuwait in the electronics and multimedia industry. Blaupunkt televisions are being presented among other notable A-brands with professional point of sale decorations at every Eureka megastore. This launch, like all Blaupunkt launches, is constantly accompanied by social media promotions.
Outside of Eureka megastores, BLAUPUNKT televisions can be found at many of the major online platforms throughout Kuwait.
"Having the Blaupunkt brand presented at such a prestigious retailer in Kuwait is a testimony to how well made the products are and how well the brand is received in the region. We are excited to see where this blossoming partnership leads us in the future." says Andrzej Cebrat, MD of GIP Development SARL / BLAUPUNKT Licensing.
About Blaupunkt
Blaupunkt is a German brand for consumer electronics, car multimedia, and related consumer lifestyle products. Founded in Berlin in 1924 as the "Ideal" company, Blaupunkt gained notoriety through the internal test label for headphones – the blue dot. The quality feature became a trademark, and in 1938 also the company name.
Today, the brand is being developed by GIP Development SARL as part of a licensing program launched in 2009. More than 40 licensees around the world distribute BLAUPUNKT products on all continents in more than 90 countries in the categories: Audio, Video, TV, Car Multimedia, Mobile Telephony, E-Mobility, Home Appliances, Security Systems, Cleaning Robots, Air Conditioning, E-Mobility and many more.
Company contact:
Frank Goergen
GIP Development SARL
2-4, rue du Chateau d'Eau
L-3364 Leudelange – Luxembourg
Frank.Goergen@blaupunkt.com
For more information on how the Blaupunkt Brand Licensing Program can expand your business
Contact us now