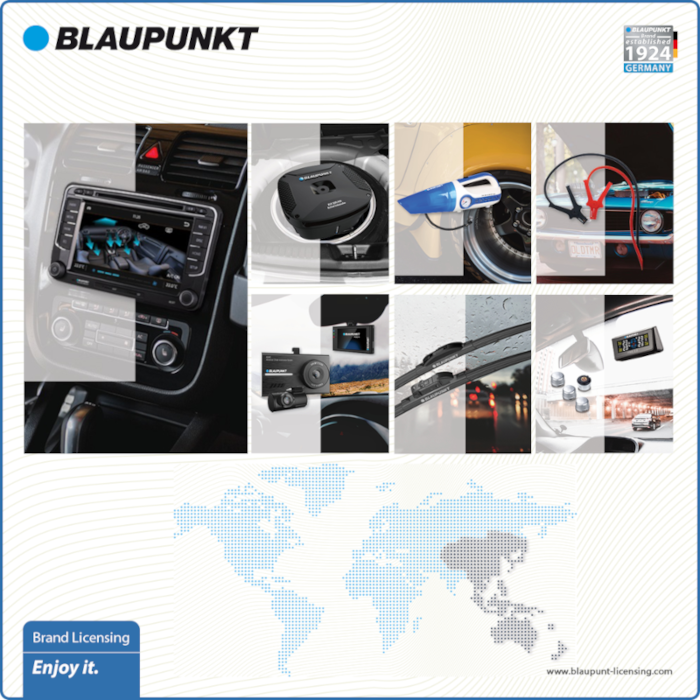 BLAUPUNKT has extended their four year-long strategic partnership with BLAPAC for a further 15 years. BLAPAC is licensed to market and distribute BLAUPUNKT car audio products in Asia, Australia, New Zealand and Fiji.
Leudelange, Luxembourg / Kuala Lumpur, Malaysia
German consumer electronics brand, BLAUPUNKT, has announced an extension of a partnership with BLAPAC SND BHD for further 15 years.
Based in Selangor, Malaysia, BLAPAC has been BLAUPUNKT'S marketing and distributing partner for their car audio products for Asia, Australia, New Zealand and Fiji since 2016. The partnership was established following a restructuring of BLAUPUNKT's Car Audio business in Asia. Over the last 4 years BLAPAC has launched and introduced over 200 new SKU's to the markets in their region. With the help of each appointed and authorized BLAUPUNKT Country Distributor, BLAPAC's business sales channel delivered aftermarket retail, online sales as well as OEM, PDI, 4S service Centre and dealer option business in their region for Toyota, Nissan, Mitsubishi, Mazda, Suzuki, KIA, M-Benz, Volkswagen and others.
BLAUPUNKT is being developed by GIP Development SARL as part of a licensing program launched in 2009. BLAPAC is one of several companies that is licensed to distribute BLAUPUNKT products. Despite this, The BLAUPUNKT headquarters continues to approve, monitor and supervise each single product release and marketing activities of its partner.
Explaining the motivation for extending the partnership with BLAPAC, Managing Director of GIP Development Sarl, Andrzej Cebrat, said: "Our four-year partnership with BLAPAC has been a rewarding one. We are delighted to have found the perfect partnership and that's why we are pleased to extend the contract by another 15 years. For us, it is additional evidence that our Blaupunkt brand licensing program is one of the most effective and sustainable global licensing programs in in the industry."
Managing Director of BLAPAC, Yap Kian Yee, is also excited about the extension of the contract. He said: "This long-term partnership extension is a great honor and chance for us to continue our business collaboration and expansion in the region. Since we took over the full responsibility on the BLAUPUNKT development, marketing and distribution, we have seen an increased growth and acceptance of the brand. Moreover, the BLAUPUNKT management made us always feel that we are fully accepted and integrated part of the BLAUPUNKT family. They gave us proof that BLAUPUNKT is looking for sustainable partnerships to further grow the BLAUPUNKT business and expand the products portfolio to serve and meet the region demand and need."
Cebrat added that the partnership will continue to focus on increasing access of BLAUPUNKT car audio products and bringing value to customers to fuel a sustainable growth. For further information about BLAUPUNKT, visit: www.blaupunkt.com/ASE.
About BLAPAC SDN BHD
BLAPAC SDN BHD and its predecessor company are based in Selangor, Malaysia next to Kuala Lumpur. Being the Blaupunkt Car Entertainment – Asia Pacific Competence Centre, BLAPAC SDN BHD is managing, developing, marketing and distributing the followings BLAUPUNKT products :
1. Car Entertainment System (radio, speaker, amplifier, active & passive subwoofer, DSP, audio cabling & accessories, antenna)
2. Car Accessories & Spare Parts (DVR/dashcam, reverse camera, reverse buzzer, air purifier, TPMS, tire inflator, electronic relay, electric horn, car alarm, central locking gun, automotive lighting – Xenon HID & LED headlamp and signaling, wiper blade, wireless charger, car USB charger and many others), and
3. Sun Protection Film
BLAPAC SDN BHD is represented by its Managing Director Mr. Yap Kian Yee, and distributes BLAUPUNKT to all Asian countries (Malaysia, Singapore, Indonesia, Thailand, Vietnam, Myanmar, Cambodia, Laos, Philippines, Brunei, Hong Kong, Macao, Taiwan, China, Korea, Japan) and Australia, New Zealand and Fiji. Any BLAUPUNKT distribution enquiry within the region is always welcome and can be emailed to sales@blapac.com.
www.blaupunkt.com/ASE/.
Company contact:
Yap Kian Yee
Managing Director
BLAPAC Sdn Bhd
11, Jalan DBP 1, Dolomite Business Park
68100 Batu Caves, Selangor, Malaysia
kyyap@blapac.com
www.blaupunkt.com/ase
About Blaupunkt
Blaupunkt is a German brand for consumer electronics, car multimedia, and related consumer lifestyle products. Founded in Berlin in 1924 as the "Ideal" company, Blaupunkt gained notoriety through the internal test label for headphones – the blue dot. The quality feature became a trademark, and in 1938 also the company name.
Today, the brand is being developed by GIP Development SARL as part of a licensing program launched in 2009. More than 40 licensees around the world distribute BLAUPUNKT products on all continents in more than 90 countries in the categories: Audio, Video, TV, Car Multimedia, Mobile Telephony, E-Mobility, Home Appliances, Security Systems, Cleaning Robots, Air Conditioning, E-Mobility, and many more.
Press contact:
Norman Pralow
Official Brand and Marketing Consultant
Order of GIP Development SARL
norman.pralow@blaupunkt.com
+49 (0) 176 6190 5452
Company contact:
Andrzej Cebrat
Managing Director
GIP Development SARL
2-4, rue du Chateau d'Eau
L-3364 Leudelange – Luxembourg
Andrzej.Cebrat@blaupunkt.com
www.Blaupunkt-licensing.com
To view the news release in it's entirety please see the file below: