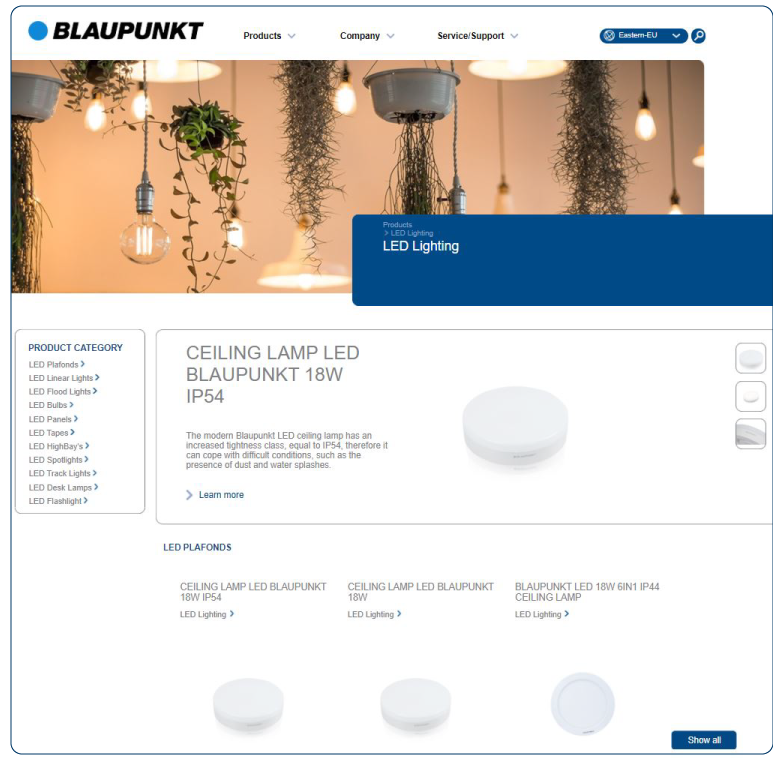 BLAUPUNKT successfully extends its reputation to new categories
The BLAUPUNKT Competence Center Lighting, based in Warsaw, Poland, has launched its extensive LED lighting line-up.
This portfolio of of LED lights, a non-core product for the brand, is the latest example of licensee's seizing the BLAUPUNKT brand licensing opportunity and successfully launching products that are atypical to the heritage of the brand.
This line-up, which offers a full range for both professional and personal use, will make BLAUPUNKT a big brand in the LED lighting business. The product range contains:
LED Bulbs, LED Flood Lights, LED Linear Lights, LED Plafonds, LED Panels, LED Tapes, LED HighBay's, LED Spotlights, LED Track Lights, LED Desk Lamps, LED Flashlight.
Keep an eye out! This portfolio will be available all over Europe soon.
BLAUPUNKT has extended its valuable brand reputation to many non-core categories in the past years such as power and garden tools, security system, robotic cleaners, appliances and many more.
The BLAUPUNKT licensing program is a desirable tool to improve the product launch success. Competence Center Lighting Europe is another example proving that our program can help product launches be more sustainable, profitable, and fast.
BLAUPUNKT Brand Licensing is open to assess new categories for the licensing program and accepting new applications for potential brand licensee's.
Want to push your bottom line profits by labeling your products with the BLAUPUNKT brand? Connect with us…