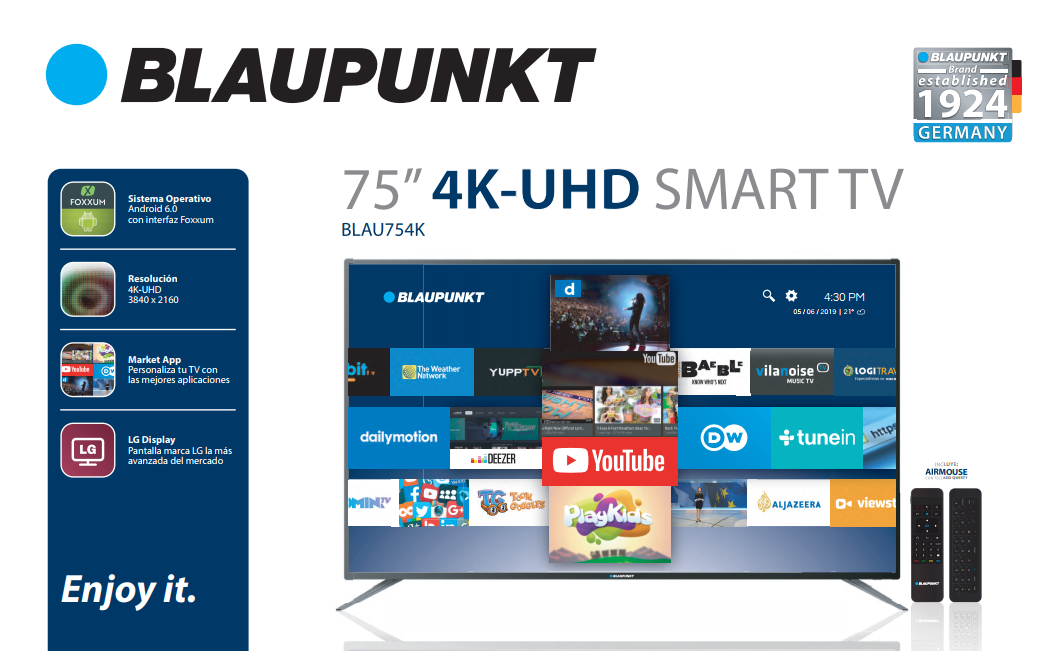 BLAUPUNKT expands its TV brand licensing footprint to the CIS and South American regions.
At last year's IFA Berlin The BLAUPUNKT Global Brand Community was unveiling a brand-new lineup of Televisions to be sold in India. The highly anticipated launch of these televisions quickly sold out within a few hours of becoming available on Flipkart. Following the momentum of this wildly successful launch BLAUPUNKT has named two brand new partners to increase the footprint of their television presence globally.
For this year's IFA Berlin BLAUPUNKT came prepared to present televisions that are currently available in Russia and an additional 6 countries in the CIS region.
This range includes OLED TV's ranging from 32 inch to an impressive 98 inch screen size. Through a partnership with Google all smart TV's in available in this region will have Android 9.0 and after the new year they will include Android 10. There are plans to make these televisions available in 2 additional countries soon with plans to expand even further in the new year.
While these units were being introduced at IFA Berlin, there was a simultaneous launch of Televisions halfway across the globe in Ecuador. There are 6 different latest technology models ranging in size from 32 inch to a 75 inch screen size are currently available in Ecuador increasing the BLAUPUNKT footprint even further.
The BLAUPUNKT Global Brand Community is expecting some exciting news regarding additional products and regions before the new year. Stay tuned to find out about the rapidly growing availability of BLAUPUNKT across the world.
Meet our Blaupunkt Brand Licensing Experts
Andrzej Cebrat, Managing Director
LinkedIn: Visit Andrzej´s LinkedIn profile
WeChat: Andrzej_Blaupunkt
Prasanna Pilimatalauwe,
Brand Licensing Specialist India, NME, South America
LinkedIn: Visit Prasanna´s LinkedIn profile
Frank Goergen,
Brand Licensing Specialist Europe, North Africa
LinkedIn: Visit Frank´s LinkedIn profile
WeChat: BlaupunktFrankG
Guenael Bourtembourg,
Brand Licensing Specialist Asia, North America
LinkedIn: Visit Guenael´s LinkedIn profile
WeChat: guenaelblaupunkt
Want to grab some time at the show to connect with a member of our team? Shoot us a message or connect with us via our contact form.
Our team members speak English, German, French, Spanish, Mandarin, Polish and Russian.