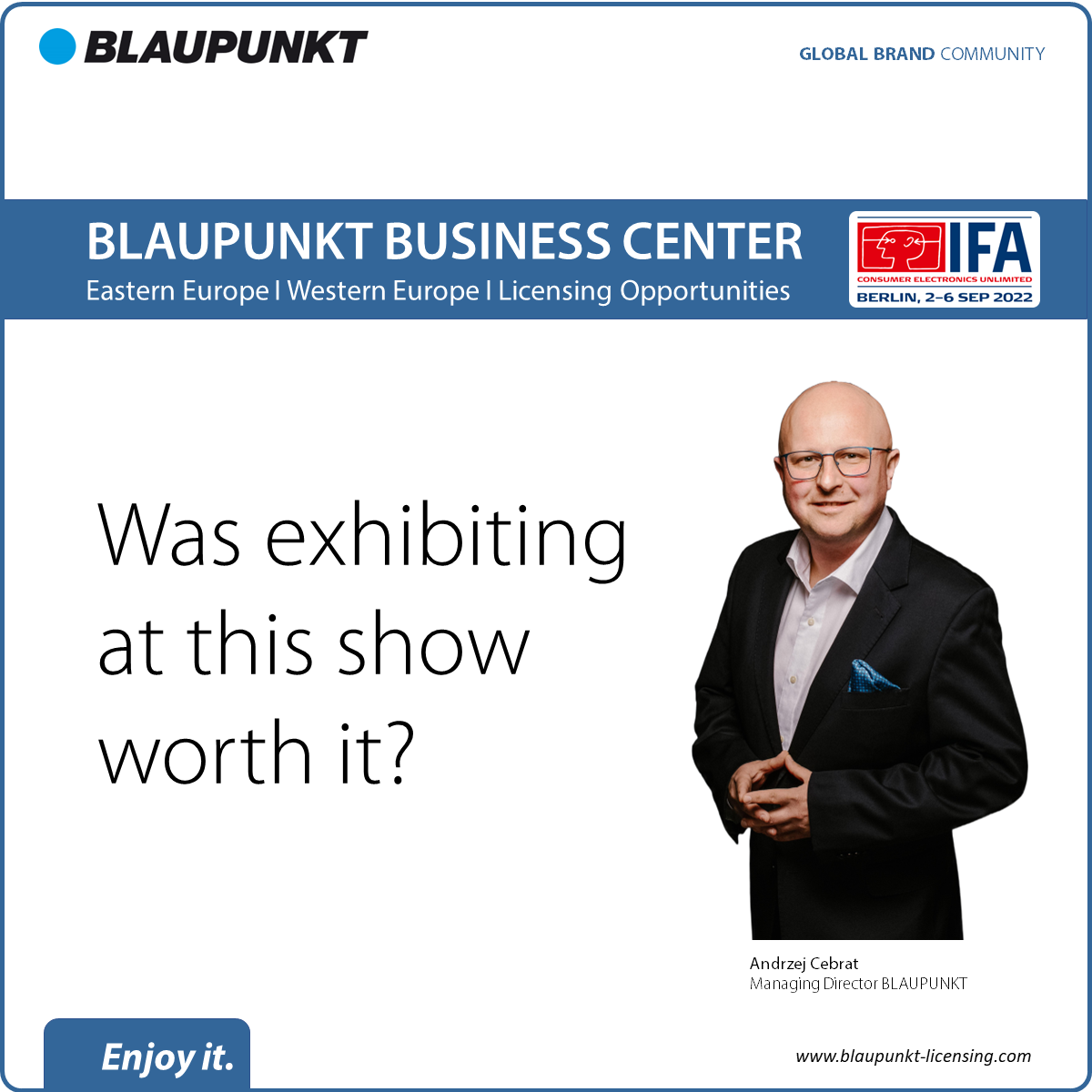 IFA concluded a week ago today, and the BLAUPUNKT team is hard at work following up.
But was it worth the money invested?
We went into IFA with a lot of question marks and even more uncertainties, just like with CES earlier this year:
Will there be enough visitors?
Will the fact that some major players are reducing their presentation have a trickle-down effect on us?
How will our results be affected by the fact that some big players such as Deutsche Telekom, Sharp, or Phillips are not attending at all?
We observed an abundance of caution from our licensees and the rumors of a dispute between Messe Berlin and the "owner" of the IFA show only made matters worse.
Nevertheless, we decided to return to Berlin, the birthplace of BLAUPUNKT, where the brand was both founded and registered in 1924. That same year BLAUPUNKT also participated in the very first IFA, which was called Funkaustellung at the time.
Like CES, we felt that our business partners and prospects were eager to meet in-person after such a long break for the pandemic and we ultimately hosted visitors from around the world.
Our licensing experts reported a wealth of extremely successful meetings. These positive results were communicated regardless of if they were from our portfolio management team, Romain Peter and Thorsten Gebhardt or if they were part of our business development team, Frank Goergen and Prasanna Pilimatalauwe. These new opportunities that came most likely would not have happened without this platform where we could host meetings face-to-face.
We also had the chance to celebrate the signing of two new licensing contracts. One of these contracts was a direct result of the trade show in Las Vegas this past January.
Examining this from the perspective of our exhibiting licensees, we saw a slightly different view. Our exhibiting partner from Eastern Europe reported a favorable outcome and many business opportunities. While our Western European partner stated that their final result was more than reasonably sufficient.
So, what's our conclusion?
We believe that tradeshows will always have their place for generating business. But we are also unsure if this is also a valid model for presenting to end-users. As a B2B platform and a marketing tool trade shows will continue to have a fixed place for in our plans for the foreseeable future.
"Finally, I would like to thank our participating licensees for taking on this challenge and investing with us to continue our tradition of having a significant BLAUPUNKT presence at IFA in Berlin. I would also like to thank the BLAUPUNKT licensing team for supporting our licensees. For their great efforts to extend the BLAUPUNKT Global Brand Community with new partners and by developing and extending the business with our existing licensees."
Andrzej Cebrat, managing director BLAUPUNKT / GIP Development, said regarding his appreciation for the team effort at IFA.
See you at CES Las Vegas in January 2023!