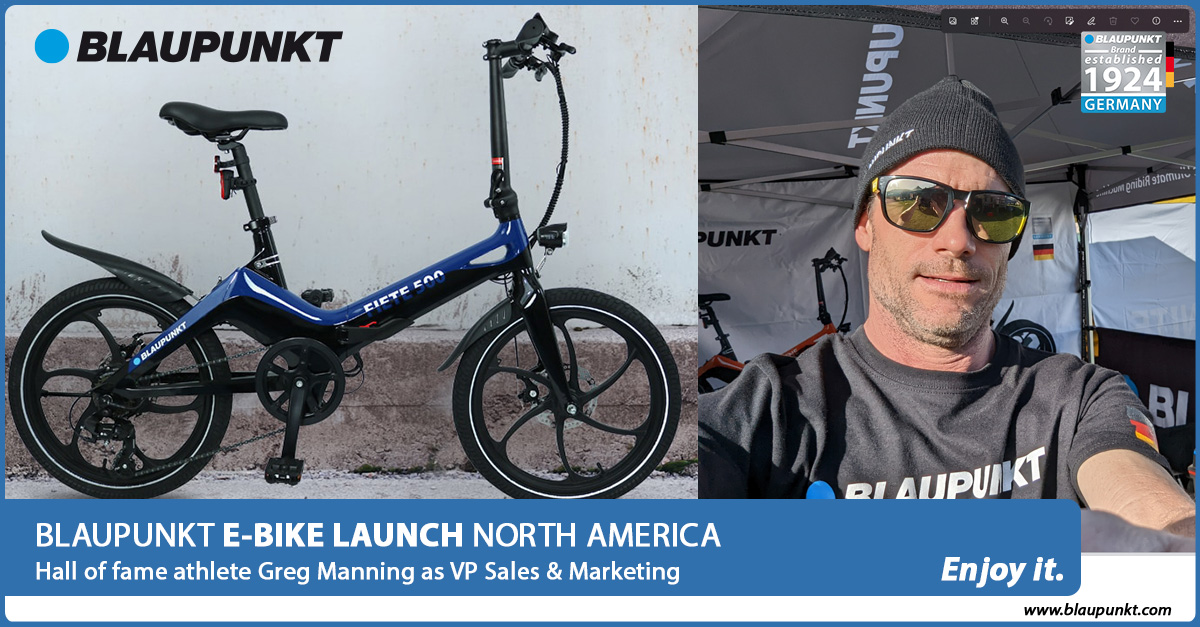 The BLAUPUNKT competence center E-Bikes North America is excited to announce its hiring of the hall of fame athlete to introduce Blaupunkt E-Bikes to the USA and Canada
Manning joins the team with a background in most every facet of the action sports industry.
On his decision to join the Blaupunkt Global Brand Community as the VP or Marketing and Sales for the Blaupunkt E-Bike launch in North America Greg Manning said, "As a long-time owner of Blaupunkt car stereos and as a veteran cyclist Blaupunkt Hit All the Marks! I jumped on the opportunity to work with Blaupunkt E-bikes."
With over 55 national event sponsorships between 1999-2020 including the Red Bull Ultra-Cross, Jose Cuervo Snowboard Pipe, and the Winter Olympics. Manning is not only proficient in Snowboarding, Skateboarding, Surfing, Biking, Golf, and Motocross he is also a pioneer in active sports brand management and business development. He has over 25 years' experience with the X-Games and active sports brand management. This extensive experience with high profile events and business development coupled with his passion for action sports is what makes him the ideal addition to the team for the upcoming Blaupunkt E-Bike launch in North America.
On the topic of the recent hiring Andrzej Cebrat, Managing Director, Blaupunkt Global (GIP Development) said, "We are excited to welcome Greg Manning onboard for the Blaupunkt Global Brand Community as the VP of Sales and Marketing for Blaupunkt E-Bike launch in North America. We believe he will be a valuable member of our community and we look forward to working with him. Together with Greg and the E-Bike launch in North America we will demonstrate how the Blaupunkt brand has transformed into a consumer lifestyle brand globally."
The Blaupunkt Competence Center North America is launching a portfolio of foldable E-bikes targeted toward commuters and anyone with a traveling lifestyle. The first sneak peak of the European-made E-Bike models for the North American market was at the Sea Otter Classic in April of 2022. This foldable E-bike line has already been well received across Europe. The 2022 models are the "Fiene 500", "Fiete 500", and "Henri 500". These models fold to half their size and weigh only 47 lbs allowing them to be stored at home or in a trunk. In addition to being compact this product line has a range of up to 44 miles, boasts 3 levels of pedal support, and the charging time from empty to full should take 4-6 hours total.
BLAUPUNKT EBIKES NORTH AMERICA
Blaupunkt ebikes North America was launched in March of 2022. Over 3.5 years of dedicated German engineering and rigorous testing earned these ebikes the coveted "Blue Dot" seal of excellence. Blaupunkt ebikes North America built a veteran team of Brand Builders, Sales Agencies, Ambassadors, Content Producers, and Customer Services. All our ebikes are foldable, lightweight, with magnesium frame construction, high quality batteries, and a 350w brushless motor!
WATCH FOR US EVERYWHERE A TIRE CAN ROLL!
Company Contact:
Blaupunkt Ebikes North America
JSN Holdings, LLC
1116 Morningside Drive Suite G
Charlotte, NC 28205 (USA)
760-594-7321
RDC:
Blaupunkt Ebikes North America
JSN Holdings, LLC
1800 N.W. 133rd Ave, Suite 900
Miami, FL 33182 (USA)
About Blaupunkt
For almost a century, Blaupunkt and its blue dot symbol have been synonymous with German technology, innovation, and quality. Backed by decades of passion and expansion for consumer electronics, car multimedia, and related consumer lifestyle products, Blaupunkt is trusted for their comprehensive, global brand licensing program. With more than 40 licensees around the world distributing Blaupunkt products, Blaupunkt is committed to serving as a valued partner to its licensees.
Press contact:
Norman Pralow
Official Brand and Marketing Consultant
Order of GIP Development SARL
norman.pralow@blaupunkt.com
+49 (0) 176 6190 5452
Company contact:
Frank Goergen
GIP Development SARL
2-4, rue du Chateau d'Eau
L-3364 Leudelange – Luxembourg
Frank.Goergen@blaupunkt.com