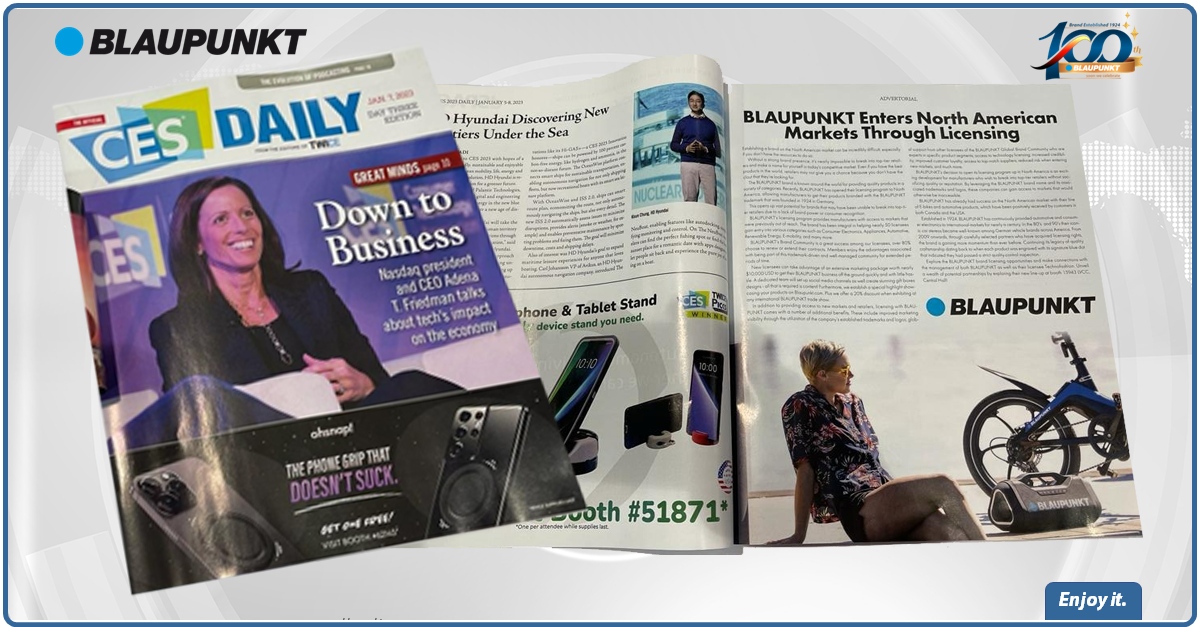 Establishing a brand on the North American market can be incredibly difficult, especially if you don't have the resources to do so.
Without a strong brand presence, it's nearly impossible to break into top-tier retailers and make a name for yourself in today's competitive market. Even if you have the best products in the world, retailers may not give you a chance because you don't have the clout that they're looking for.
The BLAUPUNKT brand is known around the world for providing quality products in a variety of categories. Recently, BLAUPUNKT has opened their licensing program to North America, allowing manufacturers to get their products branded with the BLAUPUNKT trademark that was founded in 1924 in Germany.
This opens up vast potential for brands that may have been unable to break into top-tier retailers due to a lack of brand power or consumer recognition.
BLAUPUNKT's licensing program provides manufacturers with access to markets that were previously out of reach. The brand has been integral in helping nearly 50 licensees gain entry into various categories such as Consumer Electronics, Appliances, Automotive, Renewable Energy, E-mobility, and many more.
BLAUPUNKT's Brand Community is a great success among our licensees, over 80% choose to renew or extend their contracts. Members enjoy the advantages associated with being part of this trademark-driven and well-managed community for extended periods of time.
New licensees can take advantage of an extensive marketing package worth nearly $10,000 USD to get their BLAUPUNKT business off the ground quickly and with little hassle. A dedicated team will set up social media channels as well create stunning gift boxes designs – all that is required is content! Furthermore, we establish a special highlight showcasing your products on Blaupunkt.com. Plus we offer a 20% discount when exhibiting at any international BLAUPUNKT trade show.
In addition to providing access to new markets and retailers, licensing with BLAUPUNKT comes with a number of additional benefits. These include improved marketing visibility through the utilization of the company's established trademarks and logos; global support from other licensees of the BLAUPUNKT Global Brand Community who are experts in specific product segments; access to technology licensing; increased credibility; improved customer loyalty; access to top-notch suppliers; reduced risk when entering new markets; and much more.
BLAUPUNKT's decision to open its licensing program up in North America is an exciting development for manufacturers who wish to break into top-tier retailers without sacrificing quality or reputation. By leveraging the BLAUPUNKT brand name and its associated trademarks and logos, these companies can gain access to markets that would otherwise be inaccessible.
BLAUPUNKT has already had success on the North American market with their line of E-bikes and automotive products, which have been positively received by customers in both Canada and the USA.
Established in 1924, BLAUPUNKT has continuously provided automotive and consumer electronics to international markets for nearly a century. In the 80's and 90's their iconic car stereos became well-known among German vehicle brands across America. From 2009 onwards, through carefully selected partners who have acquired licensing rights, the brand is gaining more momentum than ever before. Continuing its legacy of quality craftsmanship dating back to when each product was engraved with its signature blue dot that indicated they had passed a strict quality control inspection.
Explore the BLAUPUNKT brand licensing opportunities and make connections with the management of both BLAUPUNKT as well as their licensee Technofashion. Unveil a wealth of potential partnerships by exploring their new line-up at booth 15943 LVCC, Central Hall January 5th-8th!