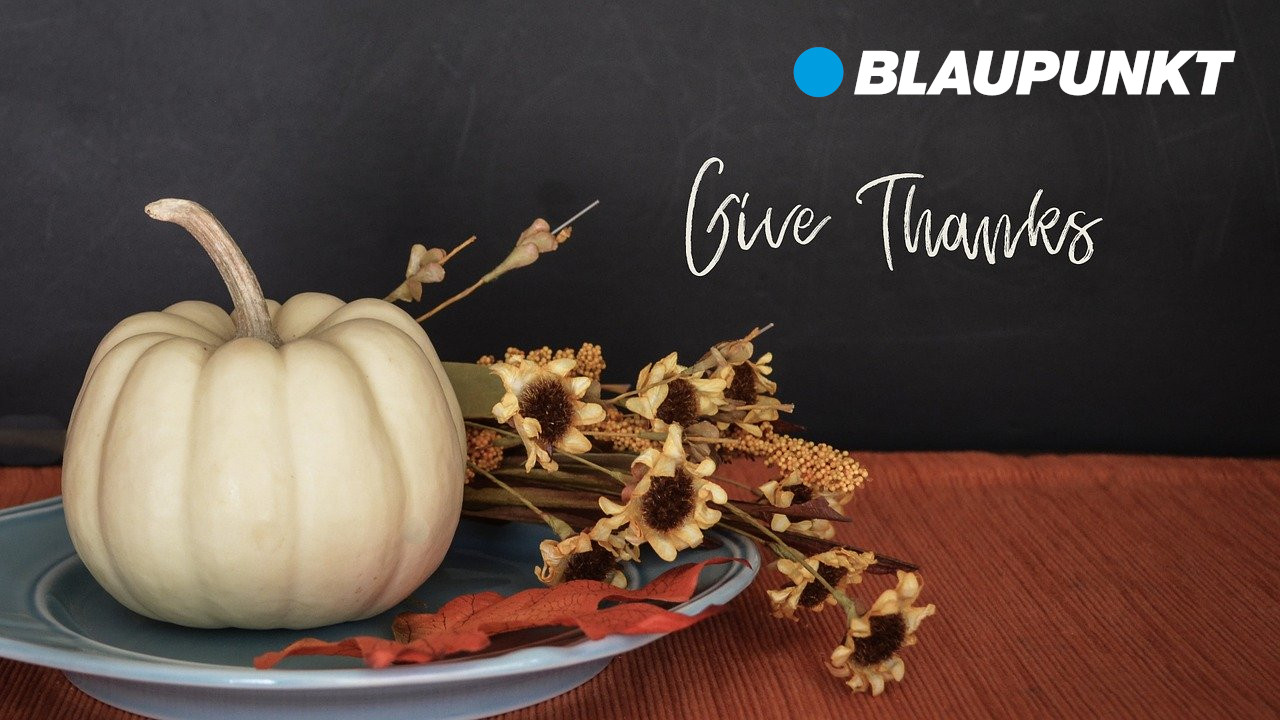 This past year has been one of incredible growth, but also one that has necessitated innovation and flexibility.
Today, our American friends, partners, colleagues, and families are celebrating Thanksgiving. In the United States it is common for friends and family to gather around the table and take turns sharing what they were grateful for in the past year as a part of this holiday tradition.
While the BLAUPUNKT brand was born in Germany, it is a successful international brand with roots worldwide and, just like the brand, our team is equally diverse. In the spirit of 2020 – growth, innovation, and flexibility – our American expat colleague asked if we would help her celebrate Thanksgiving by going around the "virtual" table and sharing what we were most thankful for.
Here are some of our responses:
"I am thankful for our business, the opportunities therein, and our community of partners. I am grateful for everyone's openness for constant improvement both professionally and privately."

Andrzej
"I am grateful for my dog, who is always happy to see me. I am thankful to work for a company and with partners who feel like family."

Romain
"I am thankful, even in during the pandemic. I am thankful to be surrounded by family and friends. That my children, my friends, and myself are in good health. I am grateful to come to work, to have projects that challenge me at work, and to be able to professionally develop myself."

Clementina
"I am thankful for having the chance to work with an international team. I appreciate that by working everyday with international colleagues, clients, and companies I am able to reaffirm my belief that we should embrace other customs and cultures. I am grateful to have the chance to take care of the heritage of one of the most prestigious brands born in Germany. For having my 2 healthy kids lighting up my life."

Norman
"I am thankful for a lot of things, but to name a few: my family, everyone's health, home sweet home, and my work."

Dijana
"I'm thankful for being in a business where we're constantly growing, exploring new unchartered waters, and constantly getting excited. I'm also thankful for having remained healthy and working full speed this year – I'm blessed and the whole team is."

Guenael
"I am thankful for my family, that everyone is healthy and that there is a very strong and loving bond between us. I am thankful for my friends, for my colleagues and my work."

Nicole
"I am thankful for my two daughters and that my family is healthy and well."

Frank
"I am thankful that my kids are here and healthy even though they've had both a tough start in life. I am thankful that finally the government has decided that we can buy Christmas Trees this year which will make Christmas that much more magical for the kids. Finally, I am thankful for a new job with wonderful new challenges."

Caroline
"I am thankful for my incredible kids, of course!!! Having friends that I can rely on, confide in, and also party with. I am grateful to be healthy in body and sound in mind. I am also thankful to have a great job job and furthermore working in a friendly and family-like atmosphere."

Michele
"I am thankful for my friend's and family's health. I am thankful for a job that brings me joy and new challenges every day. I am thankful for colleagues who treat me like family, (and, who when I request that they tell me what they were thankful for humored me.)"

Lisa