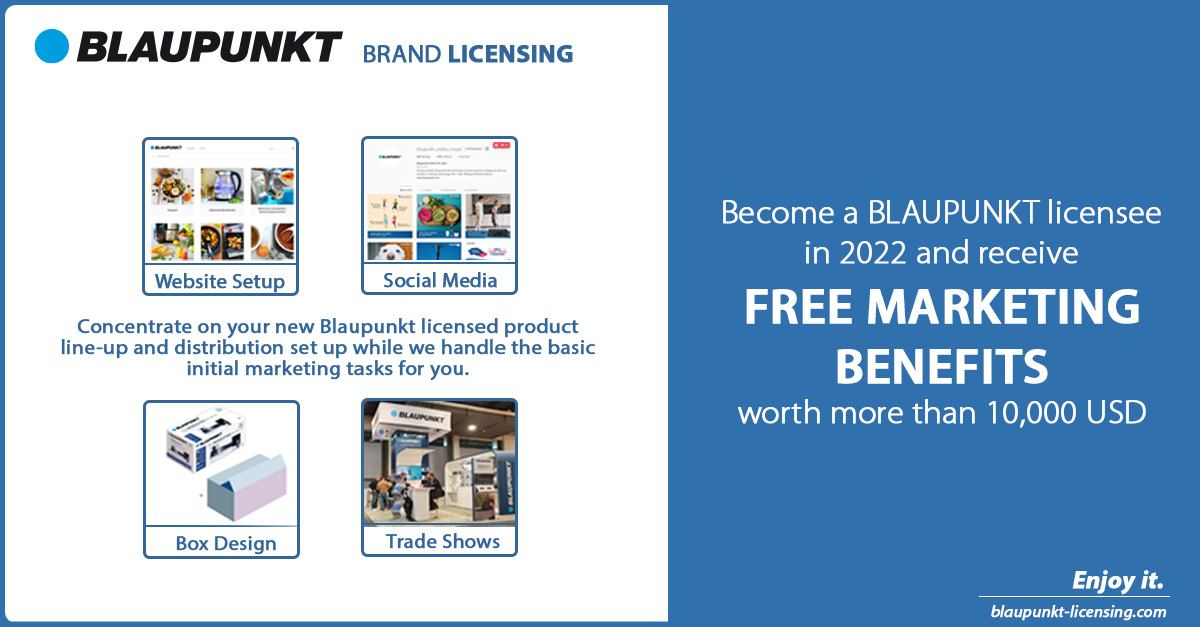 The offer will include marketing benefits worth up to $10,000 USD to new licensees who successfully apply for the licensing concept
In a move that will reinforce the brand's position as one of the easiest and fastest to implement licensing plans in the industry BLAUPUNKT's brand management team is introducing a marketing incentive for new licensees in 2022. This promotion is being strategically offered ahead of the 100 year brand anniversary that will be celebrated in 2024 allowing organizations who successfully apply to actively benefit from events surrounding the milestone as well.
"With over 10 years' experience as a licensor we have realized that one of the key factors of success for our new licensees is that they are empowered to focus on setting up their development, sourcing and distribution. It is with this key lesson in mind that we have decided to support our newest licensees in 2022 with their marketing endeavors so that they can focus on building their business with us." Andrzej Cebrat, Managing Direct of GIP Development the brand owner of BLAUPUNKT said of the promotion.
Effective as of today new licensees will benefit from free marketing support benefits given by the licensor:
• Complete website setup on blaupunkt.com by an agency
• Assistance with the first 10 product packaging artworks
• Setup of up to 5 social media channels, including initial graphic assets
• 20% discount for GIP organized trade shows in 2022 /2023
All the licensees will need to provide is the assets.
Download the Press Release here
About Blaupunkt
For almost a century, Blaupunkt and its blue dot symbol have been synonymous with German technology, innovation, and quality. Backed by decades of passion and expansion for consumer electronics, car multimedia, and related consumer lifestyle products, Blaupunkt is trusted for their comprehensive, global brand licensing program. With more than 40 licensees around the world distributing Blaupunkt products, Blaupunkt is committed to serving as a valued partner to its licensees.
Press contact:
Norman Pralow
Official Brand and Marketing Consultant
Order of GIP Development SARL
norman.pralow@blaupunkt.com
+49 (0) 176 6190 5452
Company contact:
Frank Goergen
GIP Development SARL
2-4, rue du Chateau d'Eau
L-3364 Leudelange – Luxembourg
Frank.Goergen@blaupunkt.com