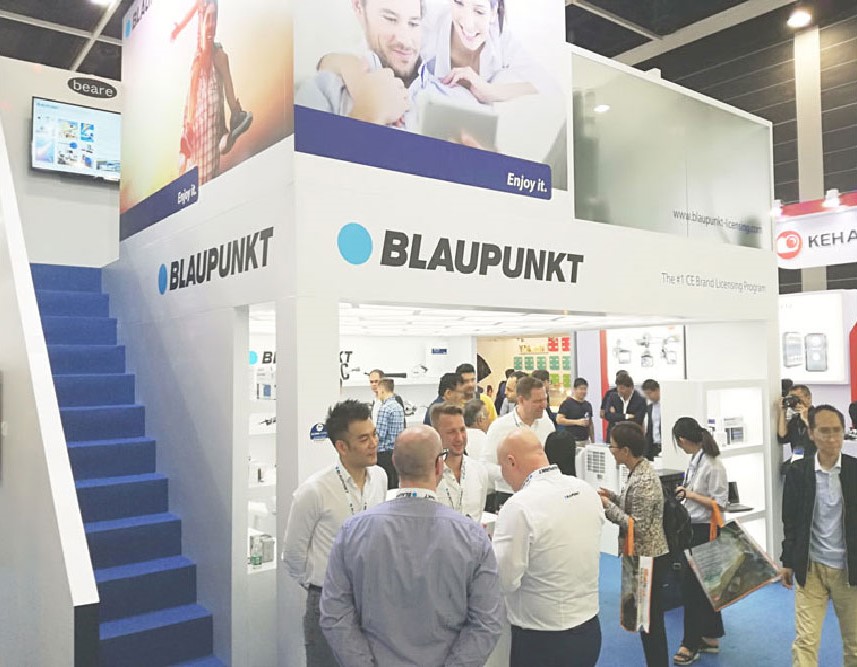 For the second year in a row, BLAUPUNKT participates at Hong Kong Electronic Fair April 13th – 16th at booth # 1E-C08
BLAUPUNKT welcomes both buyers and manufacturers to meet with our experts during the Hong Kong Electronics Fair in stand 1E-C08 to learn more about the BLAUPUNKT portfolio and see live case-examples of the BLAUPUNKT Global Licensing Program.
For the second year in a row, BLAUPUNKT will participate in the Hong Kong Electronic Fair from April 13th through April 16th, as a complement to its presence at CES and IFA.
"The Hong Kong Electronics Fair is the perfect place to present an overview of both the products already available under the BLAUPUNKT brand, as well as to present the benefits of a brand licensing program to both manufacturers and distributors", commented Andrzej Cebrat, Managing Director of GIP Development, the licensor for the BLAUPUNKT brand.
Those looking to add goods with one of the most established brand in Consumer Goods to their line, we invite to visit BLAUPUNKT at stand 1E-C08 in the Hall of Fame, to find about the latest product developments. Five existing licensees are going to take advantage of the opportunity to show their range of new products to buyers and press.
These licensees will present their portfolio of home and mobile audio, TV, robotic cleaners and batteries, but also such categories like Electric Vehicle Charging Units and power tools and lawn and garden tools.
Also on display will be a "wall of fame" showing the most innovated products of BLAUPUNKT licensees from all over the world. One of the highlights will be the voice-controlled multi-room audio line-up featuring advanced Google Assitant functions which was developed by the German audio team.
On the manufacturer/supplier side of the market, BLAUPUNKT licensing executives will be on hand to explain how the BLAUPUNKT brand licensing program works, and how to join the selected group whose products carry the BLAUPUNKT name. And tell why a licensing program can be a complement to category-leading products that will help them increase visibility and market share without the time and trouble of creating a new brand position and identity.

For those interested in a personal meeting GIP Development invites to register in advance for a private appointment on www.blaupunkt-licensing.com.

About Blaupunkt
Blaupunkt is a traditional German brand for consumer electronics and car multimedia products. Founded in Berlin in 1924 as the "Ideal" company, Blaupunkt gained notoriety through the internal test label for headphones – the blue dot which means in German Blaupunkt. The quality feature became a trademark and in 1938 also the company name. Today, the brand is being developed by GIP Development SARL as part of a licensing program launched ten years ago. More than 35 licensees around the world distribute BLAUPUNKT products on all continents in more than 90 countries in the categories: Audio / Video / TV, Car Multimedia, Mobile Telephony, E-Mobility, White Goods, Security Systems, Cleaning Robots, and Air Conditioning and many more.
Press contact:
Norman Pralow – Official Brand and Marketing Consultant Order of GIP Development SARL –
norman.pralow@blaupunkt.com – +49 (0) 176 6190 5452
Company contact:
Prasanna Pilimatalauwe – GIP Development SARL – 2-4, rue du Chateau d'Eau – L-3364 Leudelange –
Luxembourg – Prasanna.pilimatalauwe@blaupunkt.com