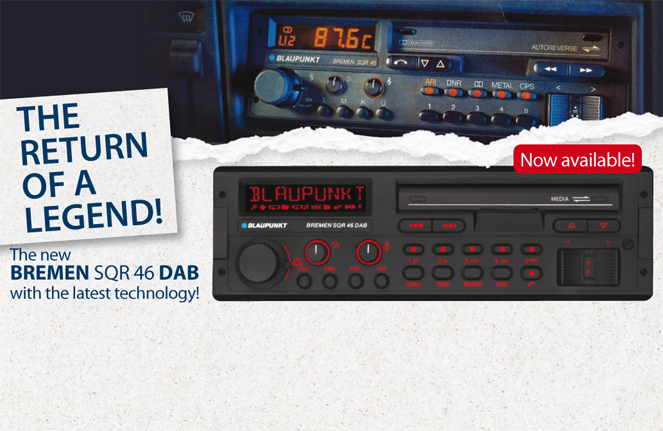 After enthusiastic reception at CES the legendary BREMEN SQR 46 is now available at Crutchflield
This past January at CES in Las Vegas the BLAUPUNKT Global Brand Community presented a few products available worldwide to the American audience. Television and Audio products garnered a lot of attention. But the Bremen SQR 46, a modern take on a classic car radio, was also among one of the most popular items presented.
The wheels began to turn for the German licensee who currently sells the Bremen car radio, the current US Licensee and the brand owner GIP Development. It was not long before all involved agreed that the German licensee could distribute this extraordinary radio through the US licensee Shagal.
Meanwhile, after the trade-show was over the enthusiasm for the Bremen SQR 46 did not die down and the retailer Crutchfield, who had been attending the event, took notice. The retailer enthusiastically picked up the Bremen SQR 46 and it is currently available for pre-sale on the crutchfield website.
The Bremen SQR 46
When Bon Jovi's Livin' On A Prayer dominated the airwaves, Blaupunkt's Bremen SQR 46 car stereo became an instant classic. Now it's back with a vengeance. If you've just picked up a classic Porsche on eBay and you're looking for a dash upgrade that maintains the vintage look, Blaupunkt's reimagined Bremen SQR 46 DAB digital media receiver is just the thing to blow your feathered hair back.
Ever considered brand licensing? Contact us today to see what opportunities may be available in your market.