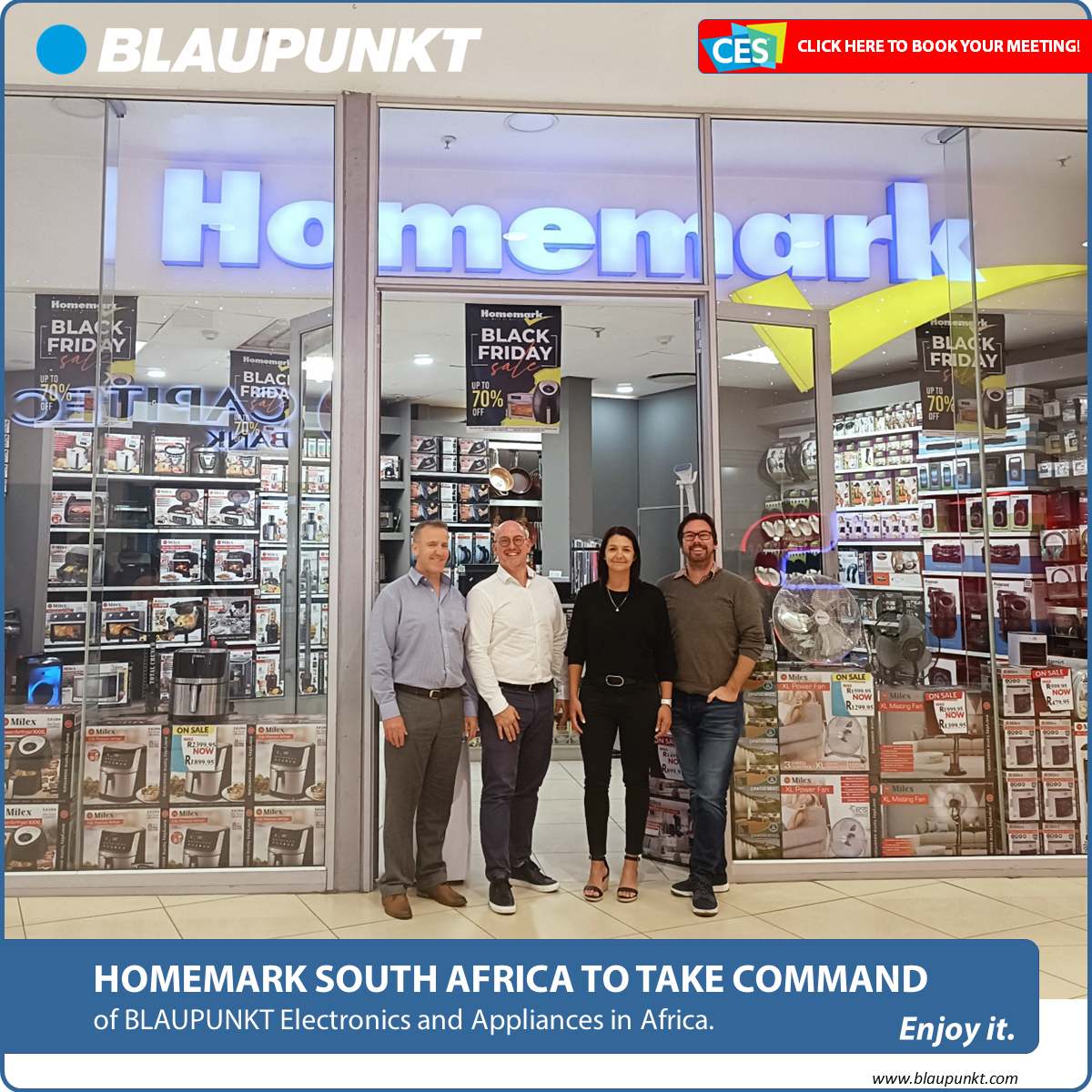 BLAUPUNKT and Homemark kick-off operational business in Sandton, South Africa
Shortly following the contract signature in September 2022 Thorsten Gebhardt and Norman Pralow representing the BLAUPUNKT brand met with the entire management team of HOMEMARK at their headquarters in South Africa.
The kick-off meeting included discussions regarding the product line, how the brand will be positioned in the region, and the creation of brand assets.
HOMEMARK in cooperation with the BLAUPUNKT brand will develop and market an extensive line-up of televisions, home and personal audio products, small domestic appliances, and lighting solutions. The range will be designed with the specific needs of the region and its consumers in mind to fit the demands flawlessly. HOMEMARK is currently the only official licensee in Africa authorized to distribute BLAUPUNKT products in these categories.
In addition to major retail chains in Africa, such as Pick n Pay, consumers will also be able to find the exclusive line-up of BLAUPUNKT products at HOMEMARK's network of online and physical stores.
More details about the portfolio will soon be available at BLAUPUNKT.com
About Homemark
Homemark (Pty) Ltd is a private company, registered in the Republic of South Africa. It is one of the pioneers of the Direct Response industry primarily in the TV segment. Homemark has distribution in approximately 2000 retail outlets such as Pick n Pay, Makro, Checkers, Game and is well established in most pharmaceutical chains such as Clicks and Dischem. This has been achieved through a formidable sales force which contributes to high visibility and awareness in the increasingly competitive marketplace. Homemark has 30 stores in major cities in South Africa with a vision to expand exponentially within the next 5 years.
The company was founded in 1992, is well established, fast growing and very competitive in the local marketplace. The company has over 500 employees nationwide and strives to be innovative in product ranges, to constantly expand and to offer our clients the best products on the market.
About Blaupunkt
For almost a century, Blaupunkt and its blue dot symbol have been synonymous with German technology, innovation, and quality. Backed by decades of passion and expansion for consumer electronics, car multimedia, and related consumer lifestyle products, Blaupunkt is trusted for their comprehensive, global brand community program. With more than 40 partners around the world distributing Blaupunkt products, Blaupunkt is committed to serving as a valued partner to its proprietors. For more information, visit blaupunkt.com
Press contact:
Norman Pralow
Official Brand and Marketing Consultant
Order of GIP Development SARL
norman.pralow@Blaupunkt.com
+49 (0) 176 6190 5452
Company contact:
Frank Goergen
GIP Development SARL
2-4, rue du Chateau d'Eau
L-3364 Leudelange – Luxembourg
frank.goergen@Blaupunkt.com