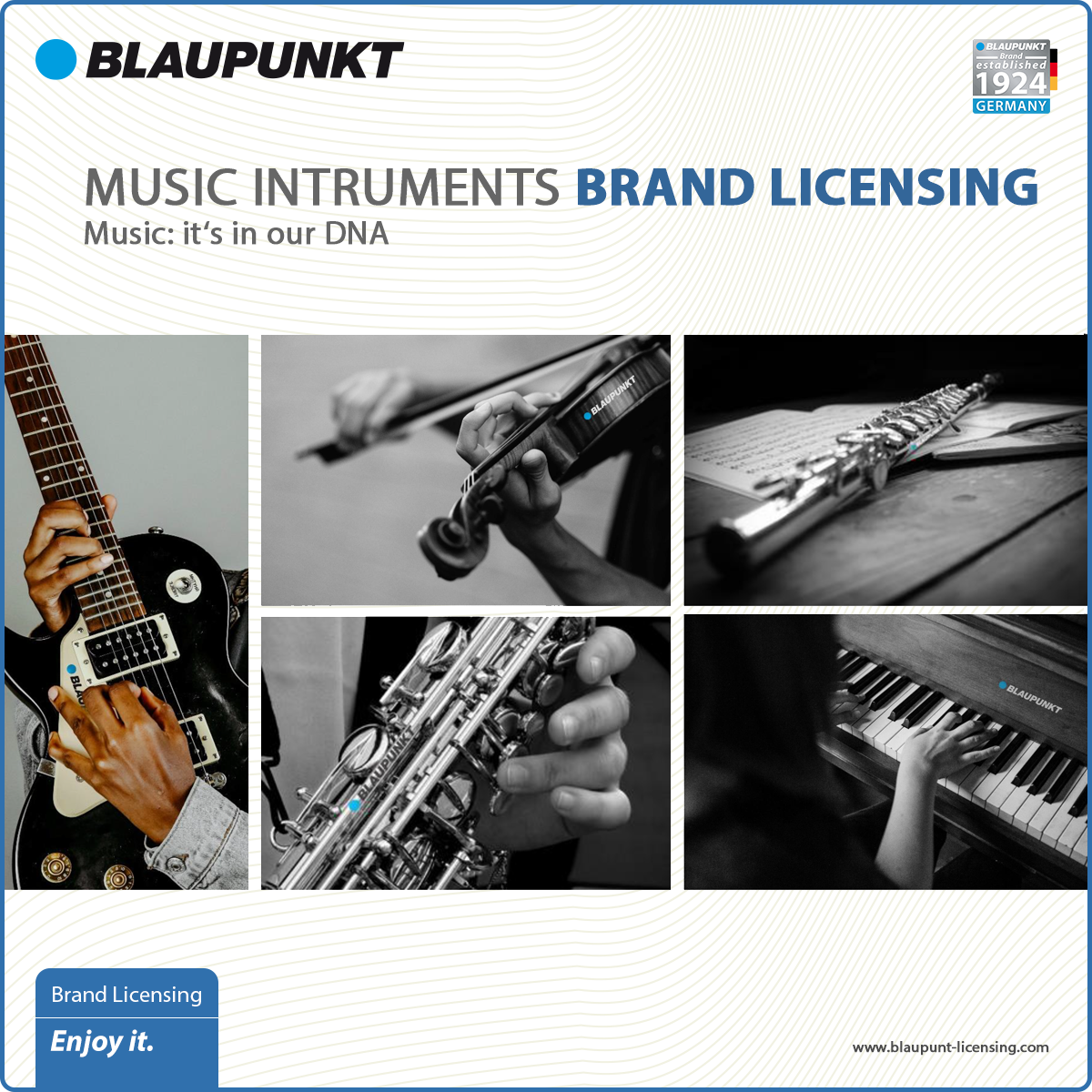 Leudelange, Luxembourg
GIP Development, the brand owner of BLAUPUNKT, has decided to extend its licensing program offers to include musical instruments in 2021.
With a history of almost 100 years that began with audio products, the owners of the BLAUPUNKT brand have observed above and beyond expected performance in the categories of personal, home, and car audio. In addition to the audio sector, the BLAUPUNKT brand has been exceeding expectations in brand categories outside the traditional product lines, including electric vehicle chargers, e-bikes, and gaming accessories.
The BLAUPUNKT brand grew by over 30% in 2020 and the management team is expecting 2021 to see similar success.
With a history so deeply rooted in audio, music, and entertainment, the Brand Management team has decided to open its licensing program for all kinds of musical instruments (electric or acoustic) in 2021. Effective immediately, potential musical instrument licensees can apply for a BLAUPUNKT license.
On the BLAUPUNKT brand expanding its reach to include musical instruments, Andrzej Cebrat stated: "Just in the last few years we already have proof of concept regarding the BLAUPUNKT brand's extension working brilliantly. As an example, our large appliance licensee sells more than 100K units thanks to the power of the BLAUPUNKT brand.
Music is the core of the brand. It all started with headphones back 1924, and today our audio licensees around the globe launch more than 600 SKU´s each year. Essentially, BLAUPUNKT is music. We are convinced that the BLAUPUNKT brand will be a huge benefit to a manufacturer of musical instruments when labeling quality mass-market musical instrument."
About Blaupunkt
Blaupunkt is a German brand for consumer electronics, car multimedia, and related consumer lifestyle products. Founded in Berlin in 1924 as the "Ideal" company, Blaupunkt gained notoriety through the internal test label for headphones – the blue dot. The quality feature became a trademark, and in 1938 also the company name.
Today, the brand is being developed by GIP Development SARL as part of a licensing program launched in 2009. More than 40 licensees around the world distribute BLAUPUNKT products on all continents in more than 90 countries in the categories: Audio, Video, TV, Car Multimedia, Mobile Telephony, E-Mobility, Home Appliances, Security Systems, Cleaning Robots, Air Conditioning, E-Mobility and many more.
Press contact:
Norman Pralow
Official Brand and Marketing Consultant
Order of GIP Development SARL
norman.pralow@blaupunkt.com
+49 (0) 176 6190 5452
Company contact:
Guenael Bourtembourg
GIP Development SARL
2-4, rue du Chateau d'Eau
L-3364 Leudelange – Luxembourg
Guenael.Bourtembourg@blaupunkt.com